It is common for social media apps to use slang and acronyms that mean specific things within their confines. You need to be familiar with another language if you wish to survive in the sea of likes. We will explore the acronym GOAT in this article, as well as how to use it.
What Does GOAT Mean?
GOATED: It is the past tense and the past participle of goat.
The term "GOAT" means "Greatest Of All Time."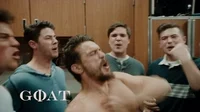 It means "Greatest Of All Time," and is used as an honorary title to describe someone deemed the best among their peers, both in the past and now. GOATs are the most accomplished individuals ever (i.e., those who have made the biggest impact on an activity). There are G.O.A.T. in every field (e.g., acting, politics, science), but the term is especially popular in sports and music.
What does GOAT mean on Snapchat?
On Snapchat, G.O.A.T can be used to tell people you (or a friend) are the best of all time! It can also be used to brag. For instance, if you just won a battle against a friend, you could say G.O.A.T to them!
G.O.A.T can also be used to express admiration or appreciation. For example, if a friend performed well on a test, you could send them G.O.A.T.
What does GOAT Mean on Gaming?
The term "goated" is another term used to describe someone great or awesome. The term originated from the term "GOAT," which stands for "Greatest Of All Time."
What does GOAT Mean in Tiktok?
TikTok, WhatsApp, Facebook, Twitter, Instagram, Snapchat and all define GOAT as "Greatest Of All Time.".
Related: 50+ Trendy & GEN Z Slang Words You Must Know To Stay Updated!
Text Slang Examples of GOAT
Example 1:
If you hit a home run in the last inning, you can become a hero, but if you strike out, you can become a GOAT.
There is no question that Tom Brady is the GOAT.
Example 2:
Person 1: It's great to hear you got goated, bro!
Person 2: I just played one game, man.
Example 3:
Come on Messi is a goat already,no cap

the real Messi is back 😅#Messi pic.twitter.com/lbI9VIAk6x

— dezgn of d great benin empire (@EwereOfBenin) August 21, 2022
Our articles on ML, WYLL, DATY and GMFU will give you a better understanding of other acronyms frequently used online.