Basketball slang words can really come in handy when talking about the sport. Whether you're trying to get your team pumped up before a game or just trying to have some fun with friends, knowing the right words can make all the difference. Here are 35+ best slang words for basketball to get you started. So, without any further ado, let's move on to the next section.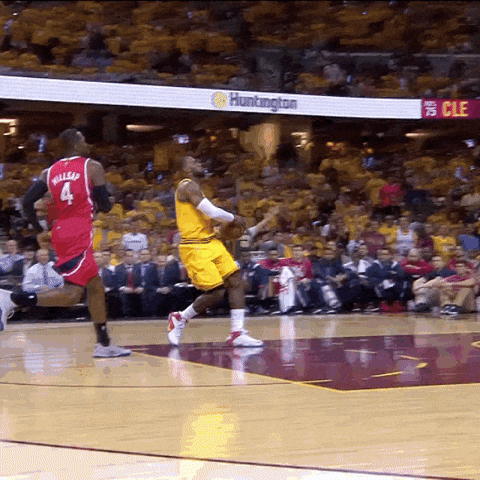 How To Use Slang Words For Basketball
Airball (noun) – Having an airball during a basketball game might be a bit of a social embarrassment. Whenever a player "hits the air" while aiming, it signifies they entirely missed the board and hoop. (Eg.) If Kobe Bryant had made his game-winning basket at the buzzer instead of an airball, he might have clinched the title. The match, including additional time, had certainly taken a toll on him.
Alley-Oop (noun) – Among the most jaw-dropping basketball combos is the alley-oop. For a dunk, one player delivers the basketball to another, who then grabs it and slams it in. (Eg.) Overcoming a defender's leap, James Harden snagged and scored on an alley-oop.
Ankle Breaker (noun) – An ankle breaker occurs whenever the attacking player monitors the flow and causes the defensive player to slip their footing or tumble to the floor or basketball court. (Eg.) Stephen Curry's incredible quickness and agility allowed him to break the ankles of even the most seasoned players. OR, Ankle Breaker is Stephen Curry's trademark move in basketball.
Automatic (noun) – Whenever a basketball player is on fire and throwing strikes at an alarming rate, they are said to be "scoring automatically". (Eg.) After making three straight baskets, Michael Jordan's form becomes almost automatic. With his newfound competence and conviction, not even the NBA's brightest stars would be capable of stopping him.
B-ball (noun) – A time-saving abbreviation for "Basketball," although you might also utilize this slang in a baseball context. (Eg.) When Katie proposed a game of b-ball, the ladies readily agreed. She felt the need to demonstrate the skills she had honed in basketball camp.
Baller (noun) – The term "baller" initially referred to NBA players. Nevertheless, baller, on the other hand, is now a slang term for exceptionally gifted, rich, and hip basketball enthusiasts. (Eg.) This Benjamin dude is the real baller. He has devoted his life to the sport and dreams of playing at the professional level.
Bank Shot (noun) – This involves letting the basketball bounce off from the backboard and into the basket for a score. (Eg.) Lebron James is a master of the bank shot and understands how to exploit the coordinates to his advantage, which is incredibly beneficial in the latter stages of matches.
Bank Is Open (noun) – This expression is used whenever somebody makes a basket while leaning to one side. On the other hand, it's a clever play on the signage that real banks use to let people know when they're open for business. (Eg.) Sue Bird tried a bank shot, and the bank is open. With her help, Seattle Storm was able to secure the victory.
Block City (noun) – When individuals on one team continually and successfully stop players on the other side, they are said to be living in a "block city". (Eg.) The Boston Celtics build a block city in opposition to the Golden State Warriors, giving themselves the upper hand in the game from the very start.
Boards (noun) – A different term for rebounds. (Eg.) Due to her towering stature and thick legs, Lauren Jackson had little trouble retrieving the boards.
Brick (noun) – A throw that isn't quite on target but still makes a lot of noise when it clanks or thuds on the frame. It would be quite unprofessional for an experienced basketball player to be seen throwing a brick. (Eg.) The game for Chicago Bulls ended in defeat as their best player, i.e., Michael Jordan, continued bricking his throws.
Buckets (noun) – Hitting buckets seems to be another term for scoring in basketball, similar to "boards". In basketball, the term "buckets" can also be used to indicate that a player has a high-scoring ability. (Eg.) The nickname "buckets" were given to Olivia because of how easily she scores baskets against any defender.
Bury A Jumper (noun) – A productive jumping shot is referred to as "burying a jumper," in basketball lingo. (Eg.) I am quite pleased to announce that I won the tournament's final game for my basketball club by burying a jumper shot in the last seconds.
Buzzer Beater (noun) – A basket made with no time left on the clock that counts. Commonly used to indicate that time has passed down, but the taken throw was the decisive one; this expression has evolved into a slang term. (Eg.) If it wasn't for Nikola Jokić game-winning three-pointer at the buzzer beater, the Denver Nuggets would have been defeated.
Cager (noun) – An archaic term for professional players. (Eg.) In the prime of his life, George was a cager. He actually stood at least 7.5 feet tall.
Charity Stripe (noun) – Here, we have the foul line, often known as the free throw line. After getting fouled, a player has the opportunity to take a shot with no defenders in his or her way, earning this area the nickname "charity stripe". (Eg.) If Ryan wants to avoid being benched, he needs to make more of his charity stripe throws.
Chucker (noun) – A pejorative or insulting term for a basketball player who regularly underperforms because he or she takes many attempts but rarely scores. (Eg.) It's time to bench Nick for the next game because he constantly throws the basketball off the target. He is such a chucker; even though he's out of sync, he still tries to score.
Circus Shot (noun) – In basketball, an out-of-the-norm shot that the player takes for funny or spectacular purposes. (Eg.) One of my acquaintances who use Snapchat often attempts the most extreme circus shot in his snaps.
Coast To Coast (noun) – An action in which a player holds the ball from one of the court's ends to the opposite end. A fast break is the typical setting for this to occur. (Eg.) Despite his stocky build, Harry can carry the basketball coast to coast and slam it home with ease because of his lightning-quick feet.
Cookies (noun) – Appropriate for being used in place of actual thefts during a game of basketball. (Eg.) To defend against an attack, no one is better than Peter. In a game broadcast to the public, he obtained eleven cookies.
Crashing The Boards (verb) – It really is the activity of retrieving a missed shot or rebound from the defense. This also entails competing with certain opponents to secure a preferred standpoint from which to grab the rebound. (Eg.) Antonio was a colossus to crashing the boards. The majority of the other youngsters in the training court were vying to recruit him to their squads.
Crash The Glass (verb) – There may be some similarities to "Crashing the Boards," although this term is often reserved for something like the offensive rebound. (Eg.) Jessica may have been petite, but her impressive vertical leap proved her a formidable opponent when it comes to crashing the glass.
Dagger (noun) – An extremely late-game strike that significantly increases the margin, ensuring that the defending side will not be able to fight back and triumph. (Eg.) For his squad, Wayne's bucket proved to be the dagger. It is likely that they'll win the championship this year.
Downtown (noun) – A part of the basketball court that is extremely distant from the bucket. Most frequently, this originates outside of the three-point line. (Eg.) When Mario made a basket from downtown whilst wearing a blindfold, the footage quickly gained a decent following.
Dropping Dimes (noun) – It is said that a player is "dropping dimes" whenever he provides his team members with multiple spectacular passes. Dime is a colloquialism meaning "assist". (Eg.) Joseph is indeed a creative thinker and a rapid analyzer. His team members could always count on him to come up with dropping dimes when needed the most.
Emptying The Bench (verb) – It suggests that perhaps the manager is using a lot of bench players in place of his or her starters. In doing so, they may give some of their best athletes a break while allowing the remaining to advance in their careers. (Eg.) With such a comfortable advantage in the game against Los Angeles Lakers, Coach Jazz emptied the bench without any hesitation.
Flop (verb) – A deliberate exaggeration of a reaction to collision in order to draw attention to yourself or to provoke a technical foul. Flopping can be effective in certain situations despite its negative reputation. (Eg.) The managers despise it when sportsmen flop since they think it's a nasty approach that has a negative impact on the sport.
Flush (verb) – Flush is a slang term for dunking. (Eg.) Francesco flushed the basketball so forcefully that it tore the basket right off the frame.
GOAT (noun) – Often used in sporting games to indicate "Greatest of All Time". (Eg.) Many people consider Michael Jordan to be the best of all time. Other individuals are certain Lebron James is the GOAT in the game of basketball. Well, each person has the right to his or her own point of view.
Granny Style (noun) – Using your non-dominant hand to fire the basketball instead of your dominant one, as is more commonly done. Granny shots are typically viewed in a comical context. (Eg.) Armstrong has a habit of making his free shots in granny style (looks like they were shot by a grandma 😅). Even though it's hilarious, he consistently does it.
Gumping (verb) – Originates from the movie "Forrest Gump". As a term of endearment, "gumping" means to play an active game, including plenty of rushing all across the basketball court. (Eg.) You ought to keep your rivals under constant pressure and keep gumping them up for as long as possible.
Hack (verb) – The action of deliberately hurting or fouling an opponent team member. (Eg.) Due to his excellent three-pointer throwing, they planned on hacking him constantly.
Handle (noun) – This term is used to describe a player's skill with the basketball and his or her capability to swing the basketball in various directions. (Eg.) Diana Taurasi has some of the finest handle skills in the Women's National Basketball Association. She is deft with the controls and can make rapid, precise adjustments.
Heat Check (noun) – The term "Heat Check" is employed whenever a player has made a string of baskets that seemed improbable. (Eg.) After Durant scored six three-pointers during the initial quarter, he decided to take more heat checks in an effort to continue his hot streak.
Heating Up (verb) – When a player starts creating good plays, it indicates that they're gaining confidence with the game and are on their way to performing up to the mark. (Eg.) About halfway through the third quarter, Wright's performance began to heat up. At the end of the match, he scored 50 points for his team.
Hops (noun) – The term "hops" is used to describe a player's capability of making extremely high vertical leaps. (Eg.) Smith can make crazy-high hops. He can jump as high as 40 inches.
Final Words
As you can see, there are many slang words for basketball. Some of these words are specific to the sport, while others may be more general terms that can be used in many different contexts. It is important to be aware of these terms and to use them correctly so that you can come across as a knowledgeable basketball fan.
If you're a basketball follower, you must have loved these 35+ slang words for the sport! From "alley-oop" to "baller," these terms will have you talking like a pro. And if you're not a basketball fan, these words will at least make you curious about the game. So whether you're playing or just watching, know the lingo!
Read More:
30+ Best Brooklyn Slang Words (And How to Use Them)
35+ Best Slang Words for Butt (And How to Use Them)